As cryptocurrencies become more mainstream, newcomers in the space are looking for affordable cold storage options to keep their investments safe.
One of the longest-running and most popular options they'll encounter, with a bit of research, is the Ledger Nano S.
This review will cover the company behind the wallet, the recent data leaks they suffered, and then explain its features, including its security and operating system.
Then we will dive into using the Ledger Nano S to conclude its benefits and downfalls.
The
company

behind the Ledger wallet

The company behind the Ledger wallet is called Ledger and it was founded in 2014 by eight professionals with backgrounds in security, cryptocurrency, and entrepreneurship.
The Ledger team in their Paris office
Since 2014, the company has grown to be a leader in security and infrastructure for crypto and blockchain. Ledger holds a headquarters in Paris and offices in Vierzon and San Francisco, where more than 130 employees work.
The company's primary aim is to help secure the new asset class, including cryptocurrencies, data assets, IoT devices, digital identities, and 2-FA.
The most successful product Ledger produces are its cryptocurrency hardware wallets which have been sold in 165 countries and to over 3 million customers.
The Ledger Nano S was the first hardware wallet released and in 2019, the team released a new, improved version named "Ledger Nano X."
Ledger Nano S
features
All Ledger hardware wallets promise to secure your crypto assets. Like other hardware wallets, private keys stored in a ledger are kept offline at all times.
For convenient handling of crypto holdings, the ledger comes with its native app: Ledger Live.
A companion to your ledger devices, the Ledger Live app can be installed on desktop as well as iOS and Android devices
Once the app is installed, traders can use Ledger Live to buy, exchange, and earn interest on their crypto portfolio, thanks to various integration partners.
The Nano S supports more than 1800 cryptocurrencies and tokens, including Bitcoin (BTC), Ethereum (ETH), Litecoin (LTC), Tether (USDT), Binance Coin (BNB), Ripple (XRP), and more. Some currencies are supported but not yet available for management on Ledger live, for example, NEO or MIOTA.
The Ledger Nano S device is petite and compact with a size and shape comparable to that of a USB stick. Its plastic body comes with a metal case out of stainless steel, making the wallet more durable. You can easily fit a Ledger Nano S into your pockets if you wanted to.
When picking a Ledger Nano S, traders can choose between different colors for the plastic body, including transparent, black, pink, blue, green, and yellow.
The wallet doesn't require a battery but will have to be connected via USB Micro-B to use it. It is compatible with 64 bits desktop computers and android 7+ smartphones.
Nano S
security
The Ledger Nano S has two layers of security consisting of two ultra-secure chips:
The ST31H320 (protection) is a microcontroller developed for secure ID and banking applications that protects secrets even against advanced attacks.
The second layer is an STM32F042 chip that ultimately stores the private keys and signs transactions - keeping all secrets in a protected environment.
An access PIN gates unauthorized access to the device. So far, there have been no reports of a Ledger Nano S being hacked remotely. It might be because it is the only wallet certified for its high security by a cybersecurity agency - the French ANSSI.
Your personalized PIN code for your Ledger Nano S device prevents unauthorized access to your crypto assets. Your PIN code is chosen when first setting up the device, but can be changed at any time.
One integral part of Ledger's security is its open-source, native operating system named BOLOS (Blockchain Open Ledger Operating System).
Introduced in 2015, the operating system empowers developers to build portable apps. The system ensures that each app has only access to its own memory region.
BOLOS also makes it possible for users to install third-party apps and add privacy features without ever exposing their secrets.
The use of industry-grade secure elements with a unique operating system increasing security might well have contributed to receiving certification from the French cybersecurity foundation.
But what also matters to traders is the convenience of a wallet for day-to-day crypto activities.
Using the
Ledger
What's in the box?
The Ledger Nano S will come in a box including the wallet, a micro-USB cable, an information booklet, cards to write down your passphrase, a keyholder chain, a keylace, and a keyring.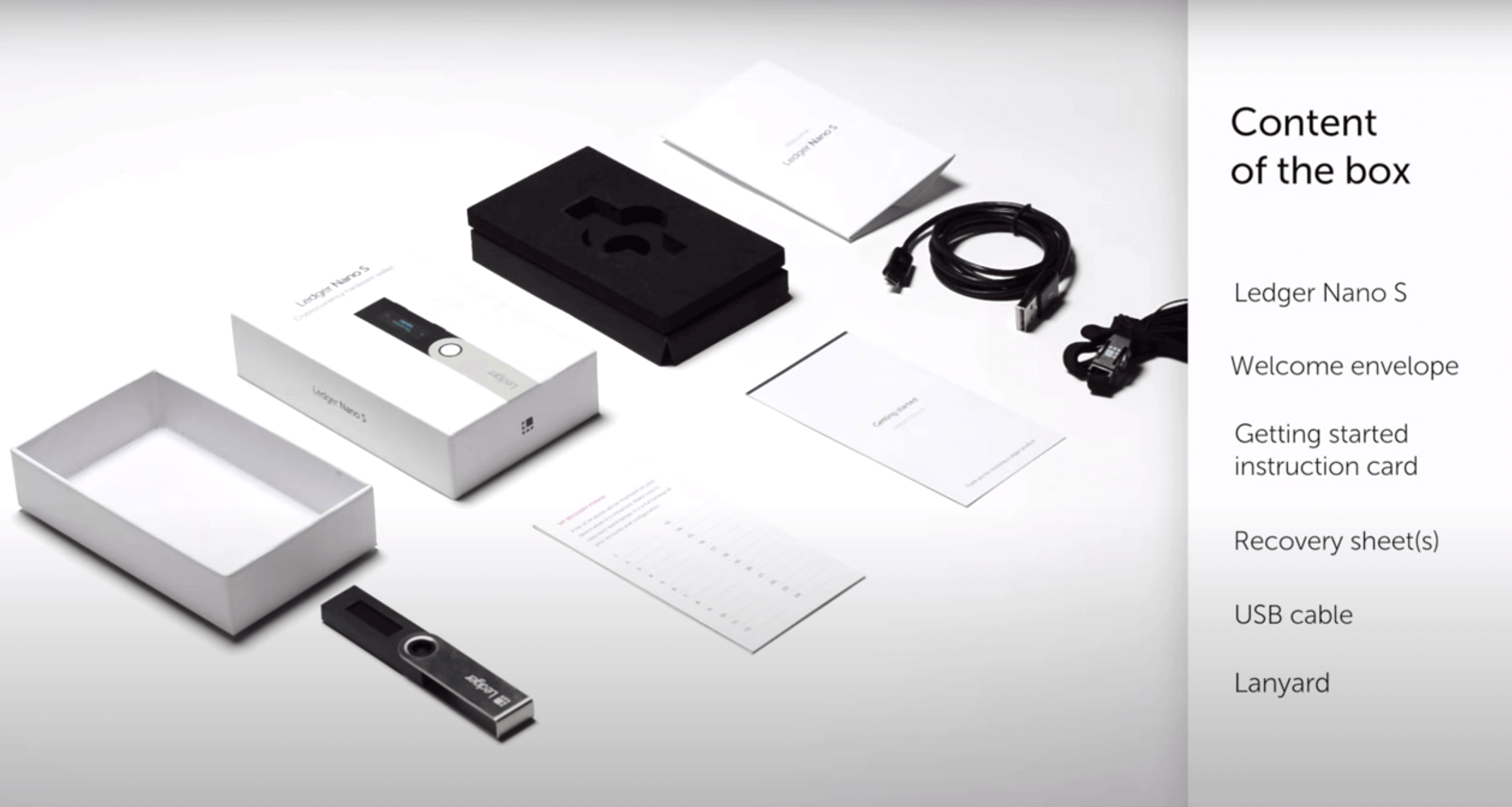 Setup
The first step in setting up a new Ledger device is installing the Ledger Live App on a desktop PC. Ledger Live guides users through the process and provides an easy-to-use interface for monitoring one's crypto assets.
The whole setup process takes just a few minutes and includes writing down your seed phrase and defining the device's PIN. Depending on preference, the PIN can be between 4 - 8 numbers long.
TIP: Using all 8 characters for your PIN strengthens your security
To start storing different cryptocurrencies on the wallet, open Ledger Live, find the respective application (Bitcoin, Ethereum, Dogecoin, etc.), and install it.
For each crypto asset that you want to manage, you need to install its app on your Ledger hardware wallet
Note that the Ledger Nano S device has to be connected to the desktop during the installation process and only 4 to 5 apps (depending upon what cryptocurrencies you choose) can be downloaded. This is one of the most annoying limitations of the Nano S.
Once installed, users can create public addresses and start transferring and receiving crypto.
As long as the public address is known, users can receive funds to their ledger anytime, even when it's offline.
Transferring and receiving crypto
To transfer (or receive) crypto, connect the Ledger via USB cable, open the Ledger Live app and enter the PIN on your Ledger to access it.
On Ledger live, go to transfer (or receive), pick send from the menu and enter the receiving address.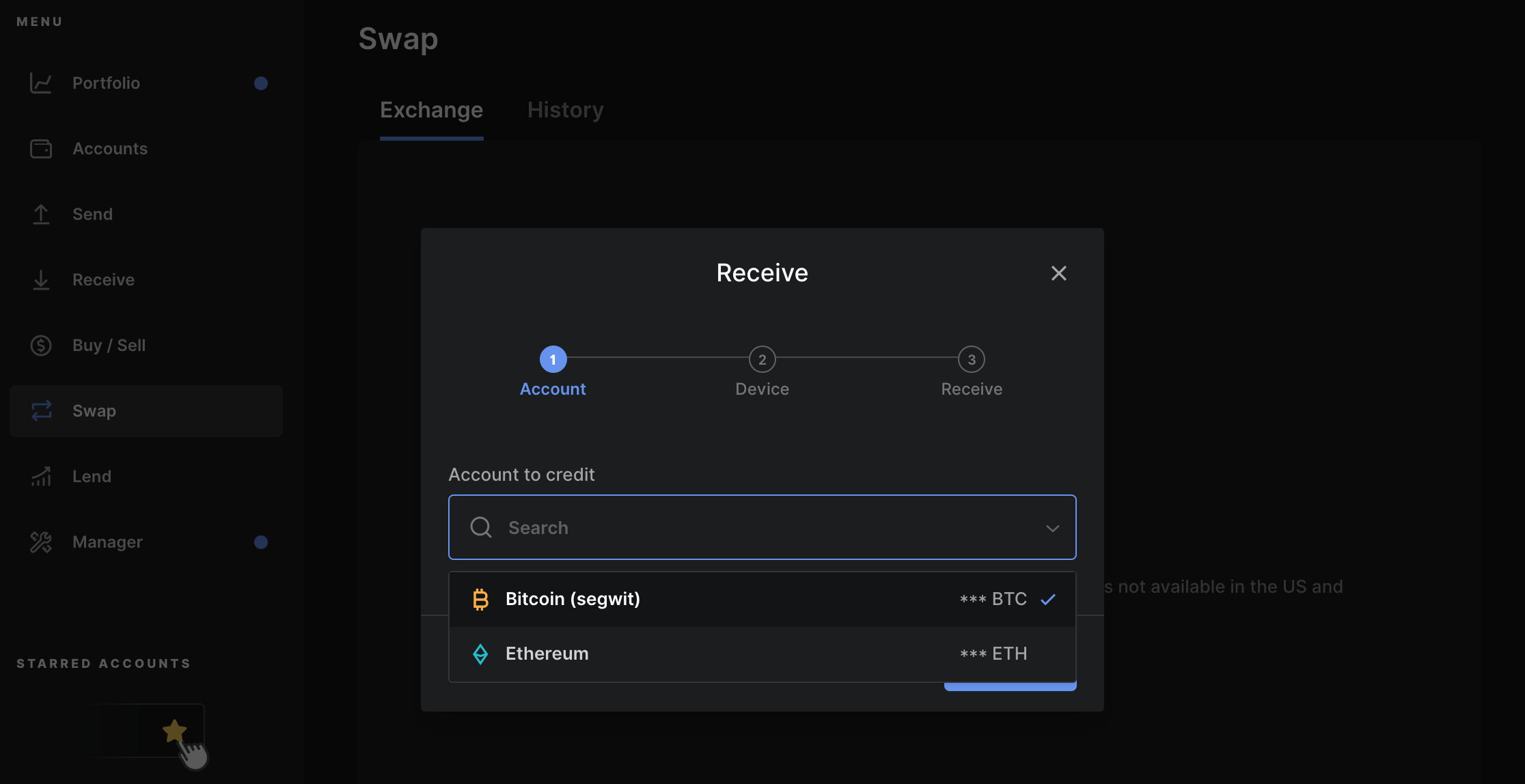 To confirm the transaction, check the recipient's address shown on the Ledger device and confirm using the ledger buttons. As the ledger Nano S screen is pretty small, it can be a hassle to verify long cryptocurrency addresses.
Thanks to various integrations with partners, you can also swap crypto, buy and sell and lend all within the Ledger Live app. For all these activities, the Ledger Nano S has to be connected to the Desktop.
Ledger
data leaks
Unfortunately, news of data leaks and privacy breaches has become commonplace. And even a company with a focus on security wasn't prepared to withstand an exploit.
On July 2020, hackers managed to exploit a third-party API malfunction and access Ledger's e-commerce and marketing database.
Coindesk breaking news article explaining how an unknown hacker gained access to Ledger's marketing database, stealing a million email addresses as well as personal information
This database contained sensitive personal information, including customers' full names, phone numbers, addresses, and emails.
The full extent of the incident only became apparent in December 2020 when the hackers decided to spread the data on the dark web. In total, more than 270,000 customer's data was leaked.
The contents of the Ledger customer database were dumped on Raidforums, a database sharing and marketplace forum
While there was no direct threat to the customer's fund (and no user funds were ever stolen), many users revealed that they had experienced increased pishing attempts and ransom threats. Some criminals even went as far as threatening physical violence.
Ongoing phishing attacks of very legit-looking emails against Ledger customers that are using the data compromised from the July 2020 data breach to both target and personalize the emails
In reaction to the incident, Ledger announced they would implement a new set of policies to prevent future breaches. The company hired the blockchain analytics company chainanalysis to hunt the hackers and offered a 10 BTC bounty for anyone who could provide information on the attackers.
The Ledger CEO also shared changes in the way data were stored. Personal information would be kept in a database that cannot be accessed from the internet. Additionally, the company committed to delete personal data as soon as possible.
While customer demand might have decreased initially, this incident did little to keep ledger from growing and improving in the long run.
As of now, more than 3 million Ledger Nano's have sold and Ledger is increasingly becoming the go-to company for crypto hardware wallet.
The final
verdict
Once having used a ledger, it's easy to comprehend why it has become one of the most popular hardware wallets for crypto holders, from newbies to professionals.
At a price point of $59, it ranks among the most affordable options without sacrificing security. Additionally, it supports more than 1800 assets, so it can even accommodate less well-known tokens.
In combination with Ledger Live, the user experience is smooth, and integrations work flawlessly.
On the downside, due to limited memory space, it can't accommodate more than 4 or 5 different applications, which can be a deal-breaker for traders with extensive portfolios.
Another minor disadvantage for some might be the small screen that makes it harder to verify addresses, and with just three buttons, entering a PIN can be a bit tedious.
After the data breach, Ledger has reacted and addressed all the vulnerabilities exposed. Regardless, it holds that a Ledger has never been hacked remotely and remains one of the best choices for anyone looking for an affordable, secure wallet to accommodate different tokens.